iPhone 6 and 6 Plus Go On Sale in U.S. and Canada to Huge Lines
Following launches in a number of other countries around the world earlier today, the iPhone 6 and 6 Plus have now begun going on sale in the U.S. and Canada, with 8:00 AM Apple launch times in the eastern and central portions of the countries having already occurred.
As expected, supplies of the iPhone 6 Plus have been tight in some cases, although perhaps not as low as originally thought. Apple's own stores appear to have the strongest supplies of the iPhone 6 Plus, with carrier stores in some cases having barely a handful of units to distribute.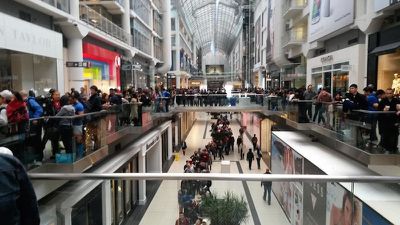 iPhone 6 line at Toronto's Eaton Centre Apple store snaking through multiple levels (via @KristinaParts)
Lines at most stores, particularly Apple's own locations, are long in most cases, despite the company having offered pre-orders for delivery this year. As of 6:00 AM, the line at Apple's flagship Fifth Avenue store in Manhattan stretched for twelve city blocks,
according to Business Insider
. Other locations are obviously seeing shorter lines, but many customers are reporting lines numbering in the hundreds at their stores.
Some MacRumors forum members are updating their statuses in our iPhone 6 Launch Meetups forum while others are sharing their thoughts in our general iPhone forum as the launch continues.
For those with pre-orders going out for delivery today, our forums remain busy as users track their orders minute-by-minute. MacRumors forum members in the U.S. are generally organizing in one of a number of threads depending on where they ordered from.
- The "I just bought/ordered/shipped/received my new iPhone 6/6 Plus" thread
- iPhone 6 & 6 Plus Sprint Pre-Order Thread!
- T-Mobile.com preorder thread
- ATT Pre-order status
- VZW Order Status Thread
- Apple.com Pre-order thread
Those who already received their iPhones can post first impressions in our forums of their iPhone 6 or iPhone 6 Plus.