iPhone 6 Plus Might Be Limited to 1 GB of RAM
Part leaks have previously suggested that the iPhone 6 has just 1 GB of RAM, much like its predecessor the iPhone 5s, but the memory status of the iPhone 6 Plus has thus far remained a mystery, leading many to hope that the larger device has been upgraded to 2 GB of RAM.
New information suggests that the iPhone 6 Plus may not be getting a memory upgrade, and will continue to offer 1GB of RAM like the iPhone 6. A screenshot allegedly from an iPhone 6 Plus depicting what appears to be iPhone monitoring app System Status has surfaced on a Korean message board (via Phone Arena), showing the device's memory maxing out at close to 1 GB.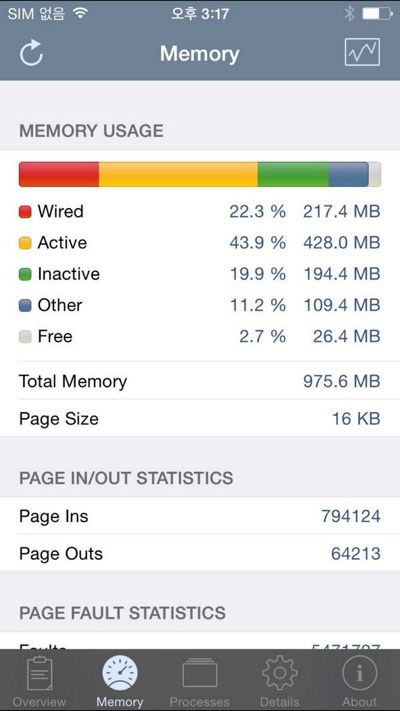 Despite the size difference, the appearance of 1 GB of RAM in the iPhone 6 Plus seems to suggest that the two phones have nearly identical internal specifications, both offering the same A8 chip and memory. The larger iPhone 6 Plus does, however, have a larger battery due to its larger size and it also offers optical image stabilization, while the iPhone 6 is limited to electronic image stabilization features.
While the apparent lack of 2 GB of RAM in the iPhone 6 Plus will undoubtedly come as a disappointment to those who were hoping for a memory increase, Apple has to work carefully to balance performance with battery life. Competing devices from companies like Samsung do offer more RAM, but at the cost of performance. Samsung's Galaxy S5, for example, offers impressive battery life at up to 10 hours of Internet browsing and 12 hours of HD movie watching, but it appears the iPhone 6 Plus may exceed that, based on battery information unveiled during the keynote.
Apple's iPhone 6 Plus is rumored to include a 2,915 mAh battery that offers up to 12 hours of Internet browsing and 14 hours of HD movie watching. Apple's iPhone 6 and 6 Plus will be arriving in stores and in the hands of customers on Friday, September 19, which will unveil more concrete information about the device's internals.