Drone Aerial Footage Reveals Mystery Flint Center Building for iPhone 6 Announcement
As part of its planned September 9th event, Apple is building a massive structure in front of the Flint Center for the Performing Arts on the De Anza College campus in Cupertino, California. The structure is covered by a white barricade that conceals the details of the building underneath.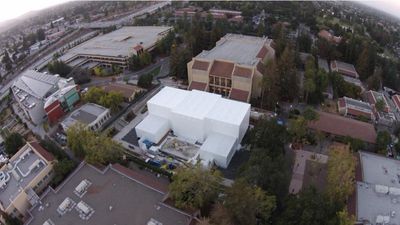 Earlier photos gave us a hint of the building, but recent aerial footage captured using a drone piloted by Sachin Patel reveals the size and scope of the project (via 9to5Mac). The building sits in front of the Flint Center on top of the college's Sunken Garden and wraps around the sides of a pre-existing sculpture.
Speculation about the building has run the gamut from performance stage to model home, with the most reasonable prediction suggesting Apple may use the venue for product demonstrations. Apple is expected to introduce the iPhone 6 along with the iWatch at the event, which means it could use the building's ample space to showcase any home automation or fitness features of its new hardware.
The Flint Center is the venue where Steve Jobs introduced the original Mac. Apple has not held an event at the location for some time, opting instead to announce new products at the Yerba Buena Center for the Arts or its own Cupertino campus Town Hall theater. Due to this change in venue, it is not yet known whether Apple will be live streaming the announcement as it has done with its most recent press events. MacRumors, however, will be providing live coverage both on MacRumors.com and through the MacRumorsLive Twitter account.
Update: Shortly after this post was published, Apple confirmed it will be streaming its September 9th iPhone event to compatible Mac, iOS and Apple TV devices.