Apple's Secretive Internal Training Program Detailed in New Profile
A new profile of Apple's internal training program published by the New York Times has shed new light on how the company teaches its vision and practices to select new employees. Originally established by Steve Jobs and Apple's Vice President of Human Resources Joel Podolny, the-so called "Apple University" is a year-round, in-house program that allows employees to enroll in a number of classes with instructors coming from universities like Yale, Harvard, Stanford, M.I.T., and more.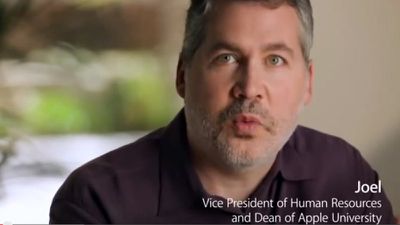 Apple's internal training programs are taught at the company's Cupertino, California campus, with rooms being described as being "well lit" and formed in a trapezoid shape with elevated seats so employees can clearly see their instructors.
Interested individuals sign up on an internal Apple website, as classes are taught to employees based on their positions at the company and work backgrounds. Some courses teach employees about vital business decisions in the history of Apple, with one employee citing a case study on how Steve Jobs chose to make the iPod and iTunes compatible with Windows after being opposed to the idea. Even classes for founders of recently acquired companies are available:
One class taught founders of recently acquired companies how to smoothly blend resources and talents into Apple. The company may also offer a course tailored specifically to employees of Beats, perhaps including its founders, Dr. Dre and Jimmy Iovine. Neither Apple nor Beats would comment.
Another course, titled "Communicating at Apple", focuses on being able to convey products and ideas to others and is taught by the former Dean of Pixar University Randy Nelson among others. A detailed overview of the course given by an employee shares how Apple used the works of Picasso to explain its vision:
In a version of the class taught last year, Mr. Nelson showed a slide of "The Bull," a series of 11 lithographs of a bull that Picasso created over about a month, starting in late 1945. In the early stages, the bull has a snout, shoulder shanks and hooves, but over the iterations, those details vanish. The last image is a curvy stick figure that is still unmistakably a bull.

"You go through more iterations until you can simply deliver your message in a very concise way, and that is true to the Apple brand and everything we do," recalled one person who took the course.

Another class taught by Nelson, titled "What Makes Apple, Apple" gives lessons on how the company executes its design principles with precision and simplicity in time. To convey that idea to employees, Nelson showed a comparison of the Apple TV remote that has three buttons and the remote from a Google TV, which features 68 buttons. The instructor explained that Apple designers included just what was needed, while the Google TV remote resulted in a complicated device because its designers "got everything that they wanted."
Finally, the article describes a course called "The Best Things", which teaches employees to be proactive in a high-caliber work environment so they can perform their best work. An example relayed to employees by course teacher and Stanford professor Joshua Cohen pointed out New York City's Central Park, which was transformed from a rocky swamp into an area that made residents feel comfortable with nature. The goal of the class was to teach employees how to make intricate computer technologies feel natural, which was a main philosophy of Jobs.