Coppertino today updated its popular Vox music player to version 2.1, adding SoundCloud integration and new options for organizing music. Vox now has the ability to stream HQ/FLAC/Lossless music from SoundCloud, giving users a way to listen to high quality music uploaded to SoundCloud.
According to Coppertino founder Ivan Ablamskiy, Vox is the only third-party music player that allows users to access and play original lossless files from SoundCloud.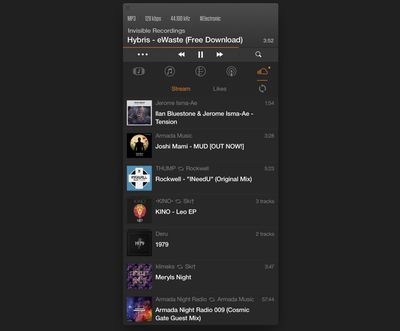 Along with SoundCloud integration, Vox has also gained some new interface updates that make it easier to access and create playlists within the app, including "Collections," a new way to intuitively organize music. A full list of updated features can be found below:
- Updated and improved modern and clean interface;
- Ability to stream SoundCloud files in high quality music formats (when the original file is a lossless or HQ audio file);
- Simplified access to all playlists, including iTunes;
- Convenient creation and management of playlists within VOX;
- Custom playlists from various sources;
- Easily queue a song to play it next;
- Full access to the largest database of radio stations and music from all over the world;
- Redesigned and more intelligent 'Search' capability;
- Numerous bug fixes and more.

Originally launched in August of 2013, Vox is a simple music player designed to serve as a replacement for the music player built into iTunes. It supports a wide variety of audio formats, including MP3, FLAC, AAC, Musepack, Ogg Vorbis, WAV, and more. Vox has the ability to import an existing iTunes library with metadata included and it also offers a built-in equalizer, radio connectivity, and gapless playback.
While Vox is currently limited to the Mac, Coppertino is working on an iOS app that's expected to debut in the fall. According to a source that spoke to MacRumors, Coppertino is also working on an upcoming cloud music service, designed to allow Vox users to access their music on both the iPhone and Mac. The service will reportedly include unlimited music storage for a small yearly fee, with the ability to store any type of audio file, including HD.
The newly updated Vox app for the Mac is available from the Mac App Store for free. [Direct Link]