Wico and Goophone Beat Apple to Market with Android-Based iPhone 6 Clones
Months before Apple is expected to release its next-generation iPhone, functional iPhone 6 clones already are starting to appear in China's mobile phone marketplace. One of the first clones, the Wico i6, is profiled by 86DIGI (via Nowhereelse.fr) in a two-part hands-on video.
(Note: Contains fairly loud soundtrack of The Carpenters' "Top of the World")
Like most clones, the Wico i6 is quite detailed for a fake, with authentic-looking FCC labeling and the characteristic Apple branding. The phone also closely mimics the rumored styling of the 4.7-inch iPhone 6 with a thin chassis that houses a side-mounted power button and elongated volume buttons.
Wico isn't the only clone maker ready to enter the mobile phone black market, however. Chinese clone maker
Goophone
has also announced (
via GizChina.com
) that it is preparing the Goophone i6 for release in August, ahead of Apple's expected September iPhone launch.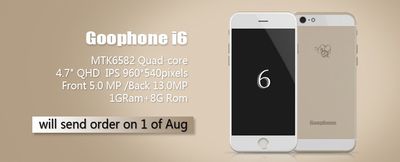 The GooPhone also borrows its styling from the rumored schematics of the iPhone 6 and pairs it with a quad-core Mediatek MT6582 chipset, 1GB RAM and 13 megapixel rear camera. Similar to previous Goophone clones, the i6 model is powered by the Android operating system.