Memory in New $1099 iMac is Soldered and Not Upgradable
The 8GB of memory in the new, cheaper 21.5-inch iMac introduced earlier today is permanently soldered to the motherboard and is not upgradable, according to a teardown of the new machine by Other World Computing.
The $1,099 machine includes a 1.4GHz Dual-Core i5 processor from the MacBook Air, but users are permanently locked to 8GB of RAM. There is no build-to-order option to increase it and it cannot be increased later.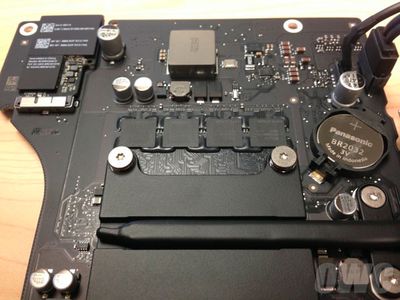 Now that we've had time to teardown the new iMac, unlike the $1,299 iMac, we found this iMac has the memory is soldered to the motherboard removing any possibility of adding additional memory. Users will be permanently locked in to the 8GB of memory, as there is no Apple factory upgrade option.
The other 21.5" iMacs, launched last fall, can be upgraded through the Apple Online Store from 8GB to 16GB. RAM can also be added after purchase, but it requires removal of the screen and is an extremely difficult upgrade.
The current 27" iMac, on the other hand, has a easily accessed door on the rear of the machine that allows for simple RAM upgrades.