Yosemite 'Handoff' Feature Likely Limited to Macs with Bluetooth LE
Over the weekend, we posted a story that Apple's Handoff feature was limited to Macs that support the Bluetooth 4.0/LE specification. Handoff/Continuity allows OS X and iOS device users to seamlessly transition between the two operating systems. However, there was some debate about the accuracy of that claim at the time, though now it seems almost certain to be true.
Bluetooth 4.0 was was first introduced in the MacBook Air and Mac mini in Mid 2011. The feature has since made its way into later Mac releases, finally coming to every Mac as of the 2013 Mac Pro.
Apfeleimer put together this nice graph showing which Macs support Bluetooth 4.0/LE.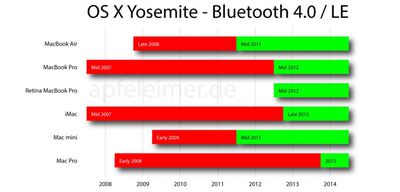 The full bars represent Macs that can run OS X Yosemite, while only Mac models in the green bar timeframes support the required Bluetooth protocol for Handoff. For iOS users, the iPad 2 is the only device that is capable of running iOS 8 but doesn't come with hardware support for Bluetooth LE.
There was some uncertainty about this being an absolute requirement, though in the WWDC sessions, Apple clearly states that Handoff runs on Bluetooth LE technology. However, now with the release of Yosemite Developer Preview 2, Apple has added a new field for Continuity Support in the System Information. The new field falls under the Bluetooth category:

Owners of late generation Macs seem to be showing Continuity support in line with the chart above, while older Mac owners are seeing Continuity support set to "No". It's not yet clear if adding a 3rd party Bluetooth 4.0 dongle will enable support on older Macs.
OS X Yosemite is in developer beta right now and will be released to customers later this year. Handoff support in the early betas remain spotty, so even those with supported devices may not see the feature working. Apple, of course, could change requirements over time.