A month after a public beta was made available, RSS news reader Reeder 2 has officially launched in the Mac App Store. The original Reeder app was discontinued following the shutdown of Google Reader last July. The new version of the program is compatible with RSS platforms such as Feedbin, Feedly, Feed Wrangler, Fever, and Readability along with support for local and standalone RSS.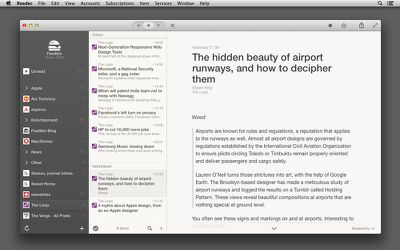 Other features:
- Themes
- Gestures
- Customizable shortcuts

Sharing services:
- Safari Reading List
- QUOTE.fm Read
- Buffer
- Readability
- Instapaper
- Pocket
- Evernote
- MarsEdit
- Pinboard
- Delicious
- App.net
- Twitter
- Facebook
- Messages
- Mail
Reeder also launched Reeder 2 for iOS devices [Direct Link] this past September, which featured compatibility with numerous RSS services, in addition to gesture-based navigation, view modes, and the ability to share stories through a variety of services.


Reeder 2 for Mac is a $9.99 download and is available through the Mac App Store. [Direct Link]