Transcend Introduces JetDrive Lite Expansion Cards Up to 128GB for MacBook Air, Retina Macbook Pro
Transcend has introduced new JetDrive Lite expansion cards designed to increase the storage capacity of the MacBook Air and the MacBook Pro with Retina display. The cards provide up to 128 GB of additional storage for less than $100.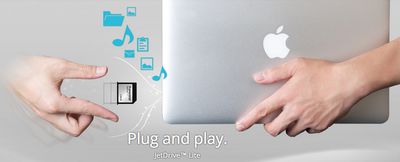 The new JetDrive Lite expansion cards are tailor-made with a flush design that matches the case form factor of both the MacBook Air and Retina MacBook Pro models. This on-the-go storage solution offers read and write speeds of 95MB/s and 60MB/s, respectively.
With their substantial amount of storage space, Transcend's JetDrive Lite expansion cards provide plenty of space to backup, store, and carry personal documents, photos, movies, and music.

[...]

When inserted into the card slot of a compatible MacBook Pro with Retina display or MacBook Air, the low-profile JetDrive Lite will not stick out like an SD card and can be left in place for on-the-go storage.
The company offers separate products for the different MacBook models due to design differences between the machines. While the 13-inch MacBook Air and the 15-inch Retina MacBook Pro can be upgraded to 64 GB and 128 GB capacities, the 13-inch Retina MacBook Pro is limited to 64 GB.
The
JetDrive Lite Series
of expansion cards are available now with prices starting at $49 for the 64 GB version and $99 for the 128 GB capacity card.