There are some decent deals to be had on several Apple products this week, including the iMac, the cellular iPad Air, and the 2013 MacBook Air, all of which are available at low prices from various retailers.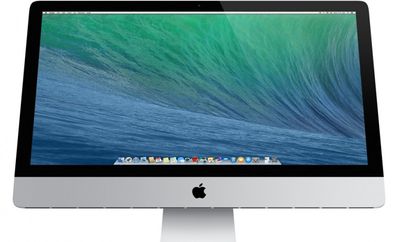 B&H, for example, is currently offering the 21.5-inch 2.7Ghz iMac with 8GB of memory and a 1TB hard drive for $1,149, a $149 savings off the regular price. The higher-end 21.5-inch iMac with a 2.9Ghz processor is also available for $1,399, a savings of $100. $100 off deals from Adorama can also be had on both the 3.2Ghz 27-inch iMac and the 3.4Ghz 27-inch iMac.
Amazon is offering some deals on the AT&T Wi-Fi + 4G iPad Air in space gray, with the high capacity 128GB version available for $819, a discount of $110. Similarly, the 64GB AT&T iPad Air is available for $729, a discount of $100. Deals aren't quite as good for the smaller capacity iPad Airs from AT&T, but the 16GB model is available for $593 ($36 discount) and the 32GB model is available for $685 ($44 discount).


Apple's 2013 MacBook Airs are still available at much lower prices following the launch of the 2014 models, with discounts up to $150 on some models from multiple retailers. The 11.6 inch model with 4GB memory and 128GB flash can be purchased from Amazon for $787, $112 off the $899 2014 model. Prices are slightly higher at B&H Photo at $799, but that site only charges sales tax in New York, making it a better deal for most customers.
The higher capacity 11.6-inch 2013 MacBook Air is available for $949.99 from both Amazon and B&H Photo, $150 less than the corresponding 2014 model.
B&H Photo is also offering the 2013 13-inch MacBook Air with 128GB of storage for $899, $100 less than the 2014 model. Amazon has a similar price, at $889. Deals are even better on the 2013-inch MacBook Air with 256GB of storage, which is on sale for $1,044.99 from both Best Buy and B&H Photo, a savings of $154.


As for accessories, the Lightning-compatible JBL OnBeat Micro Speaker Dock for the iPhone is available from Groupon for $39.99 or for $44 from Amazon.com (regularly $99.95). Sphero's first-generation iPhone-controlled wireless robotic ball is also on sale via Groupon for $59.99, a discount of $20.


DODOcase is offering a rare $5 sale on its HARDcover iPhone 5/5s cases via Stacksocial, discounting them to $30. Daily Steals has a couple of Apple accessories available at a discount, including Apple's EarPods for $15 ($30 retail) and the 30-pin to Lightning Adapter cable for $16 ($39 retail).
MacRumors is an affiliate partner with some of these vendors.