Leaked Info on Third-Generation Thunderbolt Points to 40Gbps Transfer Speeds
Intel's third-generation Thunderbolt technology could see throughput increase to 40Gbps, double the current capacity of Thunderbolt 2, first introduced in Macs last fall, according to leaked information posted on a Chinese technology site [Google Translate].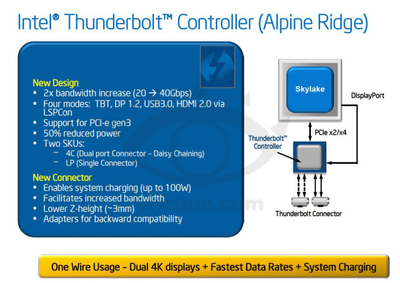 The site says Intel's new Thunderbolt controller, code-named Alpine Ridge, will see power consumption reduced by 50 percent, support for PCIe generation-3, and charging capacities of up to 100 watts. Backward compatibility will be maintained through the use of connector adapters, but the new Thunderbolt connector itself will be reduced in size.
Last April, Intel first announced Thunderbolt 2 in April before seeing it move to the Mac in October. There is no indication of when the third-generation of Thunderbolt could make its way to consumers.