MacHeist's Apple Design Award Bundle is currently available for purchase, combining nine different apps that have won Apple Design Awards in the past. The apps have a retail value of $1,776, but can be purchased for $19.99. While seven of the apps are immediately available, the final two will be unlocked when specific sales targets are reached.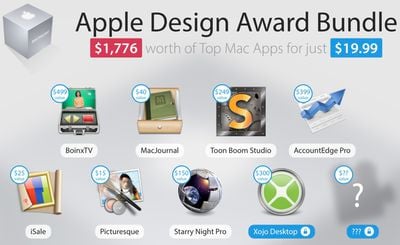 The Apple Design Award Bundle includes:
- BoinxTV ($499 value)
- MacJournal ($40 value)
- Toon Boom Studio ($249 value)
- AccountEdge Pro ($399 value)
- iSale ($25 value)
- Picturesque ($15 value)
- Starry Night Pro ($150 value)
- Xojo Desktop ($300 value)
Xojo Desktop is locked until 10,000 bundles have been sold and the ninth app, which has yet to be announced, will be unlocked at an unspecified sales target. The app shadow is a video camera, hinting at a video recording or editing app.
The bundle can be purchased from the MacHeist website for $19.99, with 10 percent of sales going directly to charity.