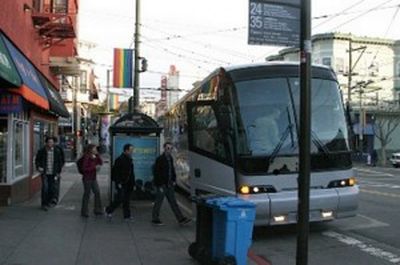 To earn approval for its Apple 2 Campus in Cupertino, Apple agreed to increase the number of employees using transportation like bicycles and shuttles, according to a new report on commuting in Silicon Valley from The Los Angeles Times.
Apple maintains a Transportation Demand Management program that gives 1,600 of its employees free rides to and from work, using environmentally friendly biodiesel that cuts down on the number of employees using cars. The program has a budget of $35 million, which works out to a cost of approximately $21,875 per employee for transportation at the current point in time.
Apple has a Transportation Demand Management program with an annual budget of $35 million and the goal of getting as many employees as possible out of their cars. It runs the company's fleet of shuttles, all biodiesel, that on average 1,600 employees ride for free each day. The current system provides more than 200 service runs from 55 pickup locations around the Bay Area. Employees can download an app to track the location of the shuttles.
Currently, 28 percent of Apple employees ride bikes, walk, or ride shuttles to work, a number that the company hopes to increase to 34 percent. To boost the number of employees using alternative transportation, Apple plans to add more shuttles and buses.
A dedicated transit center with eight parking bays is also under construction, with an ultimate goal of having as many as 76 buses and shuttles moving through the center with a park time of three minutes or less.
Commuter shuttles from companies like Apple and Google have become a somewhat controversial issue in San Francisco as of late, subject to several protests over the course of the last few months.
Recently, the San Francisco Municipal Transportation Agency approved a proposal that requires commuter shuttle buses from companies like Apple to pay $1 for each stop they make every day, which is expected to earn the city approximately $1.5 million over the course of 18 months. The program is set to begin in July.