Amazon's Apple TV Competitor Expected to Debut at April 2 Media Event
Following rumors of a March launch, it looks like April 2 will be the day Amazon introduces its Apple TV competitor, as Re/code notes that the company has sent out invitations to a "video business" media event for that date. The invitations feature a photo of a couch and popcorn, strongly suggesting that the event will indeed involve the rumored streaming video device, and Re/code's sources indicate that this will indeed be the topic for the event.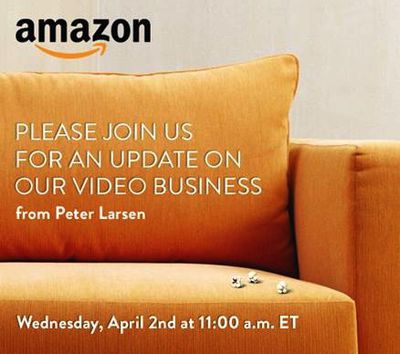 The e-commerce giant has invited reporters to gather for an "update for our video business" in New York next Wednesday, April 2.

The popcorn and couch in the image give you a pretty good idea of what to expect, as does our previous reporting, which explained that Amazon has been preparing a Web-to-TV gadget for many months.
A recent report from TechCrunch indicated that Amazon's device is expected to be a dongle similar to Google's Chromecast, which plugs directly into an HDMI port on the back of the user's television and then connects to either a USB port or outlet for power.
Amazon's launch comes as Apple users continue to await the introduction of a revamped Apple TV. Rumblings had suggested Apple was considering a launch late last year, but nothing materialized. Newer rumors have suggested that Apple might make a March or April announcement ahead of a launch later in the year, but there have been no specific signs of an imminent event from Apple.