Macworld 2014 First Look: Petcube, Motion Control Ring, Lumo Lift, and More
The annual Macworld conference, which will see hundreds of companies showing off Apple-related apps and products, officially kicked off today with the innovation showcase for media and workshop attendees.
While Apple stopped attending Macworld in 2009, causing the conference to shrink considerably, there are still a number of innovative products being demoed at the show, including the Petcube, the motion-controlled Ring, unique wearables from Lumo, and more.
Many of the products at Macworld originated on crowd-funding sites like Kickstarter, including the Petcube, which reached full funding back in November of 2013. The Petcube is a small iPhone-connected cube equipped with a camera, motion detection, and a laser toy, allowing users to keep an eye on and play with their pets while they're away from home.
The first Petcube devices will launch in May of 2014, but the company is debuting its Petcube app [
Direct Link
] at Macworld, which is a sort of social network for pets at the current time. App functionality will be expanded in the future, first allowing users to interact with Petcubes placed in shelters and then letting them interface with their own cubes after the product ships. Petcubes
can be preordered
for $199.
The Ring, another product being demoed at Macworld, also made its debut on Kickstarter. While wearing the somewhat bulky Ring on an index finger, users can make small gestures to interface via Bluetooth with an iPhone or iPad app, completing tasks like spelling out letters, opening apps like the camera, or making mobile payments.
In a demonstration, the Ring's creators used it to write letters that were then transmitted to an iPad app and also demonstrated it opening the camera app. The current functionality of the Ring seems to be a bit limited, but the creators are planning to release an SDK for developers to incorporate its technology into their own apps. The Ring is expected to ship in July of 2014 and can still be
preordered via Kickstarter
for $185.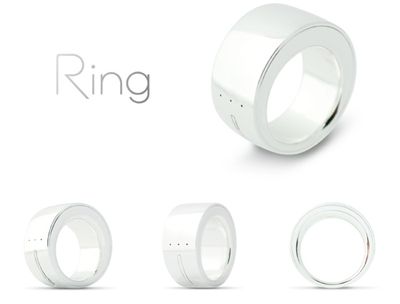 Lumo is showing off its new Lumo Lift product, which is a small wearable device that is designed to track daily activity and improve posture as well. It comes in an array of colors and designs and can measure steps and calories burned like many other fitness devices.


Lumo Lift is unique in its ability to keep an eye on posture, letting users know with a slight vibration when they slouch too often. The Lumo Lift can be preordered for $79 and will ship in the Summer of 2014.
There are also several other products available that have been demoed at conferences like CES, including the Flir One thermal camera and the Livescribe 3 Smartpen that transfers traditional writing to iOS devices. A slew of up and coming apps are also available today, including video/photo hybrid Flashback and CrazyTalk, an app for Mac and iOS that takes photos and transforms them into interactive 2D animations.
Macworld will continue through March 29, with the Expo Hall opening tomorrow morning.