A Brussels judge may block access to all Apple websites in response to a complaint filed by Federal Public Service (FPS) Economy, reports Belgian newspapers (Via Tech.eu). Apple is accused of misleading consumers about warranty protections available for products purchased from Apple's retail and online stores.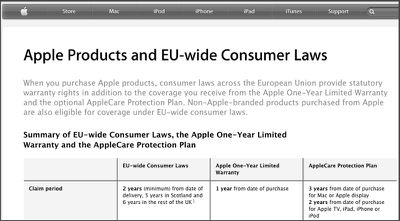 The complaint, filed last year, claims Apple advertises its one-year warranty and extended AppleCare warranty, but does not inform consumers of their right to a two-year statutory warranty under EU law. In response to this claim, Apple painstakingly outlined the differences between the company's standard one-year warranty coverage, its AppleCare extended protection plan and the EU's two-year warranty, but the website comparison was not sufficient for the Belgian regulatory group.
The Brussels investigative judge can order Belgium ISPs to blacklist Apple's website as Belgian law allows for the regulation of electronic services in cases where consumer protection rights are being violated. Though he has the power to block Apple, the judge is unsure how to proceed as blocking Apple's website also interferes with critical iOS and OS X services like iTunes and iCloud.
Consumer associations throughout Europe continue to be critical of Apple's warranty policy in its European stores. The company was fined $1.2 million in Italy over the issue and has faced lawsuits in Germany, Luxembourg, and Portugal.