Google's messaging app
Hangouts
was today
updated
to version 2.0, adding an iOS 7 redesign and several new features including animated stickers, 10 second video messages, and iPad optimization. This is the app's first major update since it received
voice calling
and Google Voice integration back in October of 2013.
Following the update, the app supports a two-column conversation view on the iPad. Like many other social networking apps,
Hangouts
now supports animated stickers that can be included in messages, and maps of current locations can also be sent in a message.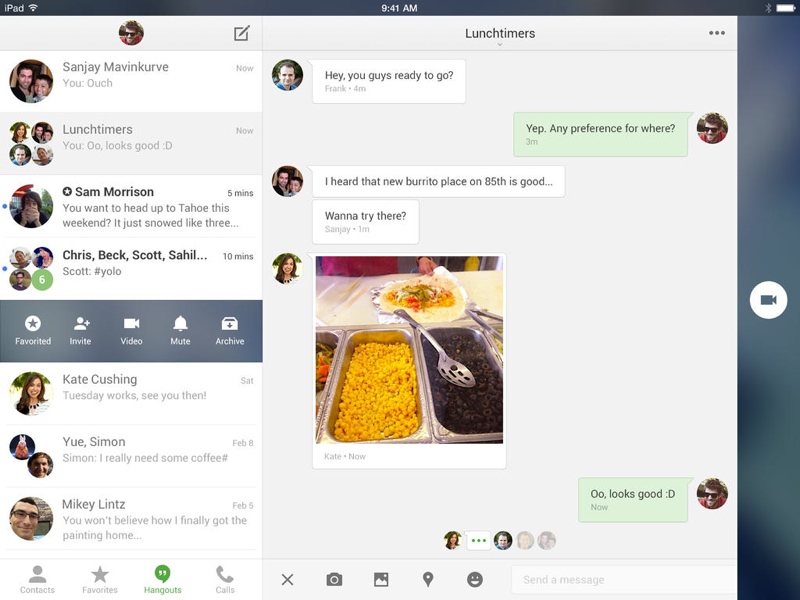 Along with a new look and feel,
Hangouts
has also gained new option to send a video message that's up to 10 seconds in length to offline users, which can be viewed later.
- Stickers: express your mood with fun animated stickers. Think of them as emoji, but even more awesome.

- Video Messages: record and send short videos to everyone in the conversation. Now you can really say what you need to say.

- Location sharing: send a map of your current location with a few simple taps. Great for coordinating the whole gang when you're ready to hangout IRL.

- Optimized for the iPad: enjoy big, beautiful video calls, and a two-pane conversation view. Perfect for the iPad's larger screen.
Google's
Hangouts
app can be downloaded from the App Store for free. [
Direct Link
]