In honor of the Mac's 30th anniversary today, iFixit has partnered with Cult of Mac and The Vintage Mac Museum to tear down an original Macintosh 128K. Analysis of the well-known vintage hardware obviously reveals no surprises, but does highlight just how far technology has come in the past 30 years.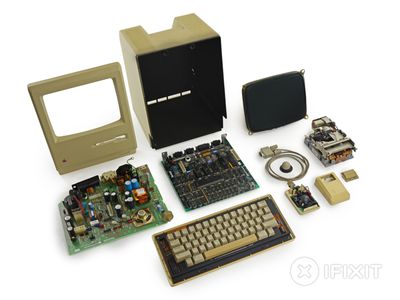 Thirty years of progress yields some impressive changes to input peripherals. Keyboards and mice are now wireless, thinner, and comprised mainly of sturdy, non-yellow metal.

And we now have arrow keys! In typical Apple fashion, they ditched the arrows on the original Mac to force people to use the mouse, a strange new accessory at the time.
The engineering of the Macintosh 128K reflects the do-it-yourself culture from which this Mac emerged. Unlike the current Mac models, the 128K is relatively easy to repair, earning a repairability score of 7 out of 10. Most main components, with the exception of RAM, are user replaceable and easy to access since adhesive was not used in the assembly process. Deep-set case screws and electrocution hazards from power supplies are the biggest hindrances to a self-repair.
Originally released as the Apple Macintosh, the Macintosh 128K was unveiled thirty years ago by Steve Jobs on January 24, 1984 at the company's annual stockholders meeting. The presentation showcased the computer's then revolutionary graphical UI and speech technology.