HondaLink Offers Partial Car-iPhone Integration Ahead of Apple's 'iOS in the Car' Initiative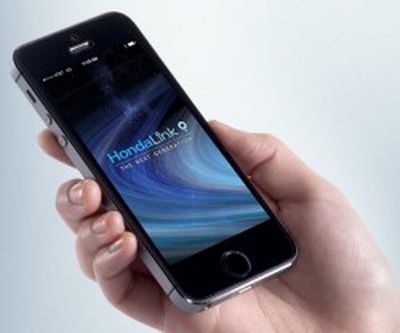 While Apple's upcoming iOS in the Car functionality has been gaining significant attention, some automakers have been developing their own systems to allow for greater integration between iPhones and vehicles.
Back in December, Honda announced new HondaLink apps and functionality to allow iOS devices to integrate with the new 2014 Civic and upcoming 2015 Fit, and MacRumors recently sat down with a Honda representative to walk through the system that offers solid integration for several features but unsurprisingly does not yet achieve the vision of iOS in the Car.
The HondaLink experience for iOS arrives in the form of four App Store apps: a Connect app that serves as the hub for passing information such as weather, location searches, and Honda service information from the iPhone to the car, an Aha app that offers an interface to the streaming music service, a Launcher app that will allow approved third-party apps to interface with HondaLink, and a $59.99 Navigation app that offers turn-by-turn GPS navigation powered by Nokia's HERE services.

Users connect their devices to the HondaLink system through a setup that requires Apple's Lightning Digital AV Adapter and then HDMI and Lightning-to-USB cables to connect to ports on the car's dash. An initial pairing process is required on first connection, but subsequent connections are simply plug and play unless authorization for a new app is required.


In many ways, HondaLink feels like a traditional in-dash system with navigation and music capabilities, but in this case it all runs through the iPhone, integrating Aha, Pandora, and iTunes library music services with GPS navigation and phone services. The system also supports Siri Eyes Free mode, allowing users to interact with their devices without taking their eyes off the road.
Running everything through the user's iPhone offers a number of benefits, most notably with the navigation services. While it does require an upfront $59.99 purchase for the app, Honda is able to remotely push map updates and deliver other updates to the service free of charge through the App Store. Many built-in navigation services require regular paid software upgrades to ensure up-to-date map coverage, with updates being offered relatively infrequently.


In our testing, the points-of-interest database and navigation functionalities performed well, and with the navigation software running directly on the iPhone users can preload routes before they even get to their cars, simply plugging in their devices and activating navigation to have the route ready to go. The navigation app also automatically marks the vehicle's location when the car is turned off, a helpful feature for those who occasionally forget where they have parked.


Integration with music services was also smooth, with the ability to easily switch between services such as Pandora and Aha and perform all of the usual functions such as selecting stations, controlling playback, and rating songs.
While the HondaLink platform currently supports traditional in-car functions like navigation, music, and phone calls, the Launcher app structure opens the door to other third-party apps. Honda has so far declined to announce any such apps, but noted to MacRumors that such apps will have to undergo an approval process in order to ensure adequate safeguards against driver distraction and that they meet other standards for integrating with HondaLink.
Clearly many Apple fans are holding out hope for a true iOS in the Car experience, where familiar user interface elements and functionality will find a home on car dashboards, but even if iOS support for the feature arrives soon it is likely to be some time before iOS in the Car becomes widely available. In the meantime, the new HondaLink offers some of those same conveniences as a welcome addition for iPhone owners.