Apple's Holiday Quarter iPad Sales Estimated to Hit Record 25 Million
Apple will announce its next quarterly earnings on Monday, January 27, and ahead of the announcement analysts are releasing their iPhone and iPad sales estimates for this holiday quarter. As we noted earlier this week, analysts predict record quarterly sales of 55 million iPhones, a 16% increase over the same quarter last year. A follow-up report today from Philip Elmer-Dewitt of Fortune suggests sales of the iPad will grow 10% year-over-year to also set a new record for Apple.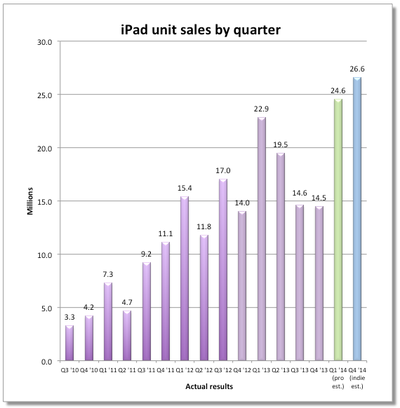 Elmer-Dewitt surveyed iPad sales estimates from 45 analysts, including 28 professionals and 17 amateurs. Estimates range from 21 million to 28 million units, with an average of 25 million units.
The average estimate among all the analysts is 25 million iPads, up 10% from the same quarter last year.

The indies, as usual, are a bit more bullish than the pros. As a group, they're looking for 16% growth, compared with the Street's 8%. Unless they've updated their numbers, four sell-side analysts -- Cowan's Timothy Arcuri, Credit Suisse's Kulbinder Garcha, Citi's Glen Yeung and CLSA's Avi Silver -- still expect Apple to report a drop in iPad sales.

Early metrics from the holiday season mirror these analyst expectations. By one count, the iPad lineup collectively accounted for 18% of Target's Black Friday sales, while the iPad mini was a top seller at Walmart. The App Store also experienced a spike in interest on Christmas day, with revenue increasing by 56 percent and the total number of downloads growing by 53 percent.
Apple will be reporting its quarterly earnings on January 27, 2014 after the close of trading, at approximately 4:30 PM Eastern / 1:30 PM Pacific. MacRumors will have full coverage of Apple's earnings release and the associated conference call taking place at 5:00 PM Eastern / 2:00 PM Pacific.