A UK Court will allow a group of privacy experts to sue Google over the company's circumvention of privacy settings in Apple's Safari browser, reports Gigaom. Following this ruling, the activists can pursue a tort claim that alleges Google misused their private information. The Honourable Mr Justice Tugendhat writes in his decision:

"I am satisfied that there is a serious issue to be tried in each of the Claimants' claims for misuse of private information… The Claimants' application to rely on ground (9) in relation to the DPA [Data Protection Act] claim is allowed… the Claimants have clearly established that this jurisdiction is the appropriate one in which to try each of the above claims."
This case stems from Google's former practice of installing cookies in Safari even when the web browser blocked that practice. Google circumvented the browser's default privacy settings by tricking Safari into thinking a web page was a trusted page. Google did this through code embedded in its ads that made Safari think the user was submitting a form. When a user fills out a form, Safari makes an exception in its privacy policy and allows a cookie to be installed on a user's device, and Google exploited this exception to install cookies without the permission of the user.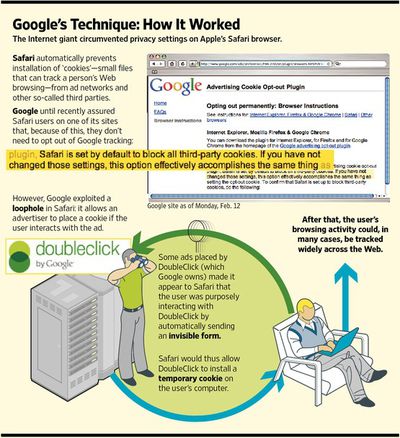 Google halted this practice in 2012 after it was reported by
The Wall Street Journal
, but consumers and regulators pursued the case through several investigations and lawsuits. The company
was fined
$22.5 million by the U.S. Federal Trade Commission for this privacy violation and paid
a $17 million settlement
in a case filed on behalf of Thirty-seven states and the District of Columbia.