Originally a 2012 Kickstarter project, Mindsense's long awaited Mail Pilot email client is now available from the Mac App Store following a beta testing period that began in June. Mail Pilot focuses on the idea that email is action-based, providing users with a number of ways to deal with email messages.
Taking a cue from most standard email apps, Mail Pilot organizes emails into a two column design. A complete list of inbox messages is displayed on the left side of the screen while full email messages are displayed in the right column when an email is selected.
All incoming messages are marked as incomplete and can be dealt with using the following actions from the bottom menu bar: Complete, Remind, Set Aside, and List. While Complete marks an email as read and instantly archives it, the other included functions give users new ways to deal with their messages.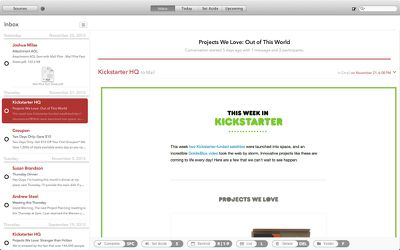 Remind allows emails to be dealt with on a specific date, which the developers suggest is useful for emails about bills and meetings. Set Aside files emails until later, a useful function for emails that require more time than a simple read through, and the List button aggregates related emails together, useful for wishlists, read it later lists, and collecting information on a specific event. Delete and folder options are also available.
At the top of the app, various inboxes can be accessed from a tabbed menu. There's a standard inbox, along with an inbox that displays messages received in the last day, and two inboxes for emails filed as Set Aside or Remind.
Emails added to lists are accessed from the separate and collapsible "Sources" menu bar, which also houses a list of archived, sent, and deleted messages. Composing an email is also done in a separate popup window that includes a text box with simple formatting options.
Mail Pilot is the email client reimagined from the ground up. We ignored all notions of common email clients, and we focused on how an email client could fit modern email workflows and uses. Realizing that all email messages are action-based, we developed Mail Pilot and its feature-set to empower users to use email in an intuitive and productive way.
Many companies have aimed to reinvent email in recent years with apps like Dropbox's Mailbox, but there remain few highly rated email apps for the Mac. While Mailbox does include much of the same action-oriented email functionality found in Mail Pilot, it is limited to iOS. Mail Pilot, while newly released on the Mac App Store, has been available for the iPhone and the iPad since April of 2013 and is able to offer a multi-device experience.
According to the developers, Mail Pilot works with Google, iCloud, Yahoo, Outlook.com, AOL, and standard IMAP/Exchange with IMAP email accounts, but App Store reviews indicate that iOS users have had issues getting some email accounts to work properly.
Mail Pilot for Mac can be downloaded from the Mac App Store for the introductory price of $9.99. [Direct Link]