OS X Console Emulator 'OpenEmu 1.0' Launches
OpenEmu 1.0, an open source project designed to bring game emulation to OS X, has officially launched following a lengthy beta testing period. Though there are other emulator options for OS X, OpenEmu has been designed from the ground up for OS X.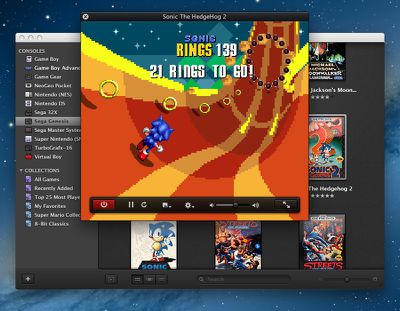 For the first time, the 'It just works' philosophy now extends to open source video game emulation on the Mac. With OpenEmu, it is extremely easy to add, browse, organize and with a compatible gamepad, play those favorite games (ROMs) you already own.
OpenEmu is able to emulate the hardware of several different consoles, including several 16-bit systems like the Game Boy, GameBoy Color, Game Boy Advance, Game Gear, NeoGeo Pocket, Nintendo Entertainment System, Sega Genesis, and Super Nintendo, among others.
The emulator features a native OS X interface with a design that mirrors iTunes, offering up ROMs in a unified card-style menu organized by system. OpenEmu includes full save state support, allowing multiple ROMs to be played at once, and it also provides OpenGL scaling, multithreaded playback, and gamepad support.
Multiple controllers are supported, including console controllers from Nintendo, Xbox, and PlayStation, along with gamepads from Gravis, Logitech, and more.
OpenEmu can currently be downloaded from the OpenEmu website for free. [Direct Download Link] [Experimental Download, Extra Beta Consoles]