iPhone 5s Top-Selling Smartphone at All U.S. Carriers, iPhone 5c Takes Third
The iPhone was the top-selling smartphone at AT&T, Verizon, Sprint and T-Mobile for September, October and November of this year, according to Canaccord Genuity analyst T. Michael Walkley (via AppleInsider). We previously covered Walkley's September numbers.
The iPhone 5s, which came out in the second half of September, has proved extremely popular with customers and has only recently gotten close to a supply/demand balance.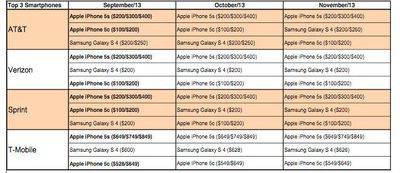 Before the iPhone 5s and 5c's release, Apple, Samsung, HTC, Nokia, Sony, and Motorola all had handsets enjoying top-three sales at at least one of America's big four carriers. Apple's September announcement pushed all but Samsung out of the picture and relegated the South Korean conglomerate's Galaxy S4 to the runner-up position across the board.

Apple has maintained a significant edge outside of the U.S. as well, even before the long-anticipated launch of the company's devices on China Mobile, the world's largest wireless carrier. The iPhone 5s was "by far the top selling smartphone...at most channels where the smartphone launched globally," Walkley notes.
Samsung's Galaxy S 4, the iPhone's chief competitor, now holds second place across all carriers with the iPhone 5c coming in third. Closer to the launch of the 5c and 5s, the 5c held second place at AT&T and Sprint.
Last year, the numbers were similar, although with different phone models. NPD claimed the iPhone 5 was the best-selling model of Q4 2012, followed by the Samsung Galaxy S III, and then the iPhone 4s and iPhone 4 models.