New Plugin Allows Developers to Turn iOS Devices Into Bitcoin Mining Bots
Unity plugin developer Icoplay has come up with a new way for developers to monetize free apps on the App Store while avoiding in-app purchases, through the use of bitcoin mining.
Bitcoin is a digital currency first developed in 2008 that has soared in value in recent years. While bitcoin value fluctuates wildly, a single bitcoin today is worth approximately $200, which makes Bitcoin mining a potentially lucrative endeavor.
Because new bitcoins are generated via complex math problems, Bitcoin mining requires an incredible amount of processing power. Icoplay is aiming to use mining software hidden within apps and games to take advantage of the latent processing power of mobile devices, rewarding the developer with bitcoin. Like distributed computing projects such as SETI@home, Bitcoin mining can be done in small chunks over hundreds or thousands of devices.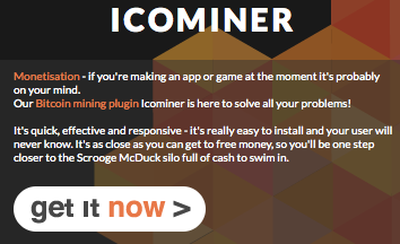 As described by Icoplay's Simon Hill on PocketGamer.biz, the company has developed the Icominer Unity plugin, which is designed to be built into an app or game, running in the background to mine for bitcoin while a player uses the application.

The core concept we worked towards is this: A developer installs the software, and every instance of its game running at any time, anywhere mines Bitcoins using the latent power of the device it's being used on.

The developer then takes its Bitcoins to spend or invest.

At Icoplay, we've spent the last few months making this a reality. We've ended up with software that can just be dropped into a Unity project (on any platform at all) and make this distributed model of 'passive grinding' work.
According to Hill, Icoplay's plugin is dynamically designed not to interfere with apps that it is built into, so much so that users will never "even notice the plugin is humming along in the background."

Regardless of the solution you choose, our bitcoin miner will seamlessly integrate into your game with no interference, earning you cash in perfect harmony with your existing app monetisation strategy. There's no catch - it's just awesome.
What Hill doesn't mention, however, is that an app or game continually drawing power for a background process would certainly be a drain on system resources, quickly exhausting battery life.
Icoplay's Icominer plugin is currently in the final stages of beta, and according to the company's website, it will be released in the near future. The plugin, priced at $80, is designed to integrated seamlessly into Unity-based apps.