iPad Drove 'Quantum Leap' in Apple Retail Store Traffic as Annual Visits Approach 400 Million
Following yesterday's release of Apple's 10-K annual report, which we shared some numbers from, Asymco analyst Horace Dediu has now taken a closer look at some of the other retail store performance numbers. Dediu notes that Apple reported a total of 395 million visits to the company's retail locations in fiscal 2013, an increase of 23 million visitors from 2012. The analyst also shows that, with the exception of some seasonal spikes, visitors per store per quarter has remained fairly steady at 240,000 since mid-2010, compared to just 160,000 visitors per store per quarter from 2007 to 2010.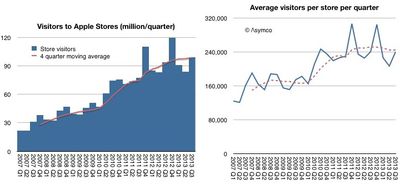 In examining potential factors driving this "quantum leap" in visitors to Apple's retail stores occurring in mid-2010, Dediu determined that the launch of the iPad could be the main reason:
That leaves product. Here we have a clear suspect. The iPad launched exactly at the point in time when the visitor count leaped. In my opinion this is the best explanation.

Let's remember also the comment from Ron Johnson at the time of the iPad launch. He said that it was as if the stores were designed for a product like the iPad. In other words, the iPad is something that needs to be discovered with a retail experience. You can sense this when you visit the stores and the placement of the iPads within.
As Business Insider points out, Dediu also notes that the average spending per visitor in an Apple retail store has remained steady for the past several years at around $50, up from the $40 spent on average before the product launched:
Next, Dediu explains that the traffic to each store depends in part on the size of the store and the "flow" of people through the store. The store renovations that Apple recently announced, Dediu says, will be geared toward improving these. Dediu also pointed out that the average spending per visitor in the stores is very steady — "around $50 since the iPad launched, $40 prior."
Apple reported during its fourth quarter earnings call this week that its retail stores made $4.5 billion in revenue in Q4 2013, with 30 new stores coming in fiscal 2014. Two-thirds of those new stores will be located outside of the United States, and Apple plans to remodel an additional 20 stores over the course of the year.