Apple Selling $20 OS X Lion and Mountain Lion in Online Store
Apple is now offering redemption codes on its online store for both OS X 10.7 Lion and OS X 10.8 Mountain Lion for users of older Macs who have not previously purchased the software, reports TechCrunch.
Lion and Mountain Lion, which are no longer available for download directly from the Mac App Store, can be bought for $19.99 each. Purchasing either one of the older operating systems will result in an email with a content code that can be redeemed within the Mac App Store.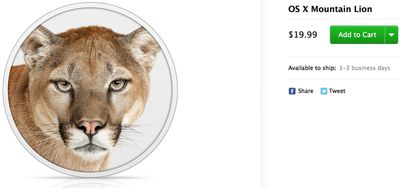 If you need to purchase Mac OS X 10.8 Mountain Lion, you may order it from this page.

The most current version of OS X is OS X 10.9 Mavericks. To learn more, please click here.

What do you receive: An email with a content code for the Mac App Store.
Note: Redemption codes are usually delivered within 1 business day but may occasionally take longer.
Previously, users were able to purchase a copy of Lion, but doing so required a phone call to Apple. OS X Mountain Lion was available via the Mac App Store earlier this week, but it has since been removed in favor of Mavericks, leaving the new online purchasing system as the only way to acquire an older Apple OS.
Customers who have previously purchased Lion or Mountain Lion can download the operating systems through the "Purchases" tab of the Mac App Store.