13-Inch 2013 MacBook Air Gets Up to 15 Hours of Battery Life With Mavericks
In his lengthy and ultra-detailed review of Mavericks, John Siracusa of Ars Technica conducts battery benchmark tests to measure Mavericks' power saving features on both a 2007 MacBook Pro and a 2013 13.3-inch MacBook Air.
While both systems saw notable battery gains going from Mountain Lion to Mavericks, the 2013 MacBook Air in particular saw impressive improvements of up to 30 percent, lasting for more than 15 hours in some instances.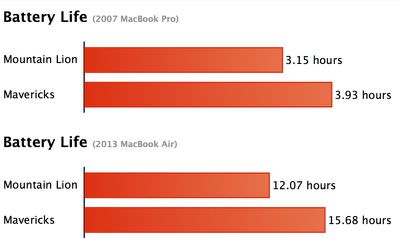 For his battery tests, which were conducted using OS X 10.8.5 and the GM build of Mavericks, Siracusa created a light Web browsing and text-editing automation script, including websites that used Flash. In his tests, battery life varied significantly, but provided, on average, an increase of two hours of work time.
I suspect the aggressiveness of the auto-playing Flash ads that happen to be on specific websites on a particular day may partly explain the huge variability in Mountain Lion's numbers. Some of the lower-scoring Mountain Lion trials may have also had the bad luck to coincide with energy-intensive periodic jobs—jobs that are prevented from running on Mavericks due to AC power or battery-level restrictions as part of centralized task scheduling.

These tests may or may not be representative of how you use your Mac, but regardless, it's clear that Apple's efforts have not been in vain. Mavericks really does consume less energy than Mountain Lion when performing the same tasks.
Since its debut at WWDC, Apple has touted the power saving features bundled into Mavericks, poising improved battery life as the keystone of the operating system. Mavericks is designed to cut down on CPU activity using Timer Coalescing, Compressed Memory, and App Nap.
While Timer Coalescing bundles low-level operations into a single batch action that reduces CPU utilization by up to 72 percent, App Nap cuts down on the power usage of apps that are not running in the foreground, reducing their overall power draw by up to 23 percent. Compressed Memory also works in conjunction with these two features, compacting the least used processes so less time is spent reading and writing virtual memory swap files on disk, which improves power consumption.
There's also a new power saving feature built directly into Safari, called Power Saver. With Power Saver, Safari intelligently detects plug-in content playing in the margins of a website and pauses it, preserving battery life.
During Apple's October 22 event, Apple's senior vice president of Software Engineering Craig Federighi also highlighted Mavericks' battery saving capabilities on the new 13-inch MacBook Air, noting that the operating system provides an extra hour of web browsing and an hour and a half of extra video time.
Mavericks is available for free from the Mac App Store and is a one-step update for all Mac users running OS X Snow Leopard and above. It can be installed on most computers produced after 2007. As of this morning, total Mavericks adoption hovered at approximately seven percent.