Samsung Dominates Mobile Market in Phablet-Heavy South Korea, Apple Devices Have Just 14% Share
As Samsung's home country of South Korea approaches connected device saturation, Apple's share of the market is dwarfed by Samsung's share, according to a new report from mobile analytics firm Flurry.
Of a total of 33,527,534 active smartphones and tablets in South Korea, Apple iPads and iPhones make up 14 percent. Samsung devices, including larger phone/tablet hybrids, make up 60 percent of all connected devices. LG and Pantech are also popular in the country, with 10 and 15 percent share, respectively.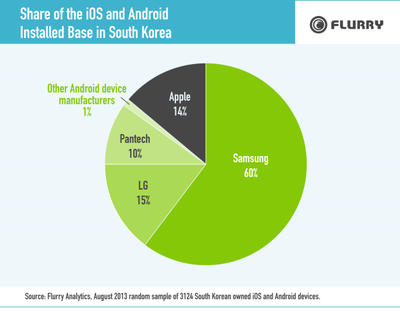 Based on rapid device adoption in 2011 and 2012 and slowing adoption numbers in 2013, Flurry suggests South Korea is the first market to approach connected device saturation, serving as an early indicator of what smartphone adoption might look like in other worldwide markets as mobile market growth begins to slow.
As shown in the graph, that growth has slowed markedly in the past year or so, and has even been negative in some months. That implies that the South Korean connected device market either already is, or will soon be, the first in the world to reach saturation. As such, it provides a good early indicator of what other markets can expect once the rapid growth period the mobile market has experienced over the past few years ends.
Unlike other parts of the world, however, phone/tablet hybrids more commonly known as "phablets" are highly popular in South Korea. While 41 percent of connected devices in South Korea are phablets, the hybrids remain fairly unpopular in the rest of the world, making up just 7 percent of the market. Tablets were also more popular worldwide, making up 19 percent of connected devices, compared to just 5 percent in South Korea.


As noted during Apple's third quarter financial results call, though the iPhone remains less popular in South Korea, it topped a customer satisfaction survey [Google Translation] in the country, outpacing Samsung by two percent.
As companies like Samsung, LG, and HTC continue to produce larger smartphones, Apple too is said to be experimenting with additional iPhone sizes ranging from 4.8 inches to 6 inches, which could shift more of the market in Samsung's home country towards Apple in the future.