Official Google Music iOS App to Launch Later This Month
Google will launch an official app for its 'Google Play Music All Access' subscription music service later this month, according to a report from Engadget. The official app was hinted at back in May, with a Google executive saying the service was intended to be "universally accessible".
The service was supposed to come to iOS within a few weeks of launch, but was reportedly delayed because of issues with record company DRM requirements. Several unofficial Google Music apps have made their way to the App Store in the meantime, however.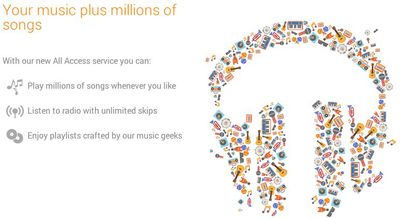 Sources aware of Google's plans have let slip to Engadget that not only is the company currently testing a native Google Music iOS app internally, but that it'll launch later this month. We're told that while employees have been invited to test the app, Google still needs to fix a few bugs before it's ready for release.
Google Play Music All Access is a subscription service costing $9.99/month. The service is designed to compete with Spotify, providing songs on demand that can be streamed to a computer or mobile device.
Apple launched iTunes Radio, a Pandora-esque streaming music service, to the public last month alongside the release of iOS 7.