Dropbox for Mac has been updated to version 2.4.0, adding an iPhoto importer that allows iPhoto users to automatically import photos from iPhoto directly to Dropbox. The feature works with iPhoto 7.0 and later, and can be accessed via the Import tab in the Preferences menu.
With the import option turned on, photos uploaded to iPhoto will also be saved in a "Photos from iPhoto" folder within Dropbox, which also contains subfolders that correspond to events from the iPhoto library.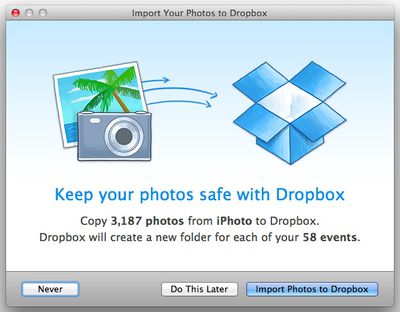 In addition to an iPhoto importer, the update also includes a new feature that allows screenshots to be saved directly in Dropbox. The feature can be enabled after taking a screenshot via the standard keyboard shortcuts for the Mac (Command + Shift + 3 or Command + Shift + 4) after the updated has been installed.
Starting today, all the screenshots you take can automatically be saved straight to your Dropbox. And on top of that, Dropbox will also create a link to your screenshot and copy it to your clipboard — so your picture's instantly good to share. Whether you're capturing screenshots of websites, favorite dog videos, or video calls with your buddy in São Paulo, now Dropbox can help keep your computer a little more organized.
While Dropbox's Camera Uploads feature allow iOS users to automatically upload screenshots in a similar fashion, screenshot-only upload functionality is unavailable. A similar solution can be achieved via the IFTTT (If This Then That) app, creating a recipe that uploads screenshots to a distinct Dropbox folder.
Dropbox for Mac can be downloaded from the Dropbox website for free.