With today's introduction of the iPhone 5s and iPhone 5c, Apple's revised iPhone lineup saw the discontinuation of the iPhone 4 and iPhone 5 in most markets, while the iPhone 4s lives on as the entry-level device.
But in line with a report from KGI Securities analyst Ming-Chi Kuo, who predicted that the iPhone 5c would replace the iPhone 5 rather than the iPhone 4s in Apple's lineup, even the iPhone 4 is continuing to hang on, with Apple still offering the device in China.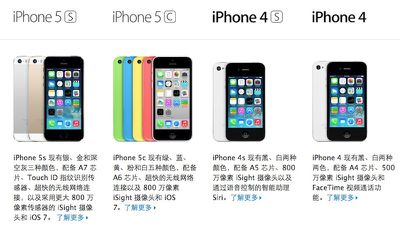 It is unclear how long Apple will continue offering the device in China, but with relatively high prices in the country pushing even Apple's new "lower-cost" iPhone 5c to over $700, Apple clearly feels that it needs to offer even lower-priced options to consumers.
Both black and white models of the iPhone 4 in 8 GB capacities are available in China, with the devices priced at RMB 2588 ($423) as Apple's cheapest offering in the country. The iPhone 4s starts at RMB 3288 ($537), while the new iPhone 5c starts at RMB 4488 ($733) and the iPhone 5s starts at RMB 5288 ($864).