John Leake, co-host of the RetroMacCast, has crafted a 1/3 scale miniature replica of the Mac Plus (via Cult of Mac). The computer, which he calls the "Mini Mac", is made from a Raspberry Pi, PVC, and a Linux-based Mac emulator running System 6.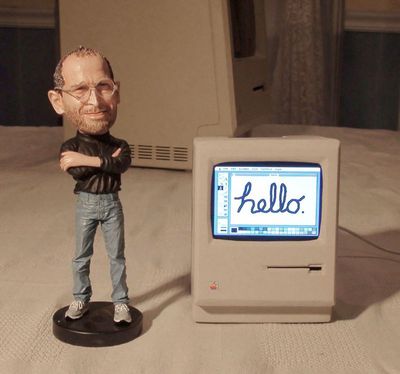 The mini computer's casing was created from sheets of 3M Sintra PVC plastic, which were shaped with an X-Acto knife and then sanded. The monitor is a 3.5-inch composite LCD panel, held in with two brackets and velcro, and it all runs on a Raspberry Pi. It also includes Wi-Fi, an HDMI port, two USB ports, with a Bluetooth dongle to be added in the future.
Constructing the tiny Mac required Leake to cut the SD card, trim the USB cable, and solder wires to bypass the power connector. Leake has a detailed description of how he built the computer on his
blog
, and during a podcast, he mentions that it took him 12 hours to build. If he produces more Mini Macs in the future, he plans to use a 3D printer.