New Photos of the Black iPad 5 Front Panel and Digitizer Assembly
Back in April, a pair of photos surfaced showing what was claimed to be a white front panel from Apple's fifth-generation iPad, showing narrower side bezels as had been rumored as part of a redesign inspired by the iPad mini. A brief video that surfaced over this past weekend also appeared to show the next-generation iPad's front panel and digitizer paired with a rear shell.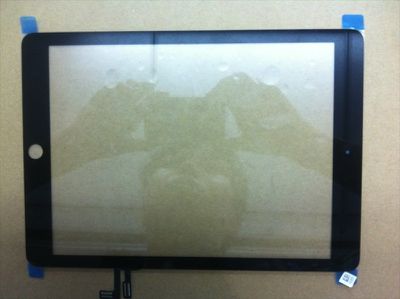 Now, a new listing at parts and repair firm Macfixit Australia includes a number of photos of a similar part, which the company's supplier says is a genuine front panel and digitizer for the fifth-generation iPad.


The part shows the same narrower side bezels seen in previous leaks, as well as a pair of flex cables running along one of the long edges of the panel and ending in connectors in roughly the same location seen on both the current iPad and in the leaked photo from last weekend. The connectors are different from those seen in current and previous full-size iPads, but Apple has been rumored to be making a number of technological changes in order to achieve the smaller form factor expected for the upcoming iPad, revisions which could necessitate a significant change in connector design.
Our supplier claims this is the new iPad 5 Screen/Digitizer:

- The display area is the same as the iPad Retina.

- The edges of the frame are narrower using the same style as the iPad mini.

- The ITO (Indium tin oxide) is the same as the iPad mini.

- There is now 2 connectors instead of 1.

- The connectors have been changed from FFC (Flat Flexible Cable, like the iPad 2/3/4) to FPC (Flexible Printed Circuits, like the iPhone 4/5).
Stamped on the front panel is a part number of 821-1892-02, which matches the format used by Apple on many of its iOS device components.


Apple is expected to introduce the fifth-generation iPad as soon as next month, with an updated iPad mini rumored to be following fairly soon after.
(Thanks, Martin!)