11" MacBook Air Owner Connects High-End Graphics Card With Complex Thunderbolt Setup
Larry Gadea, a user on the Tech Inferno forums, has shown off a unique setup whereby he connects a graphics card to the 11" MacBook Air via a series of adapters.
He uses a Thunderbolt to Express Card adapter, then connects an ExpressCard to PCI-Express adapter, and finally to a Windows-compatible video card. The final result is somewhat bulky but seems to provide an excellent gaming experience.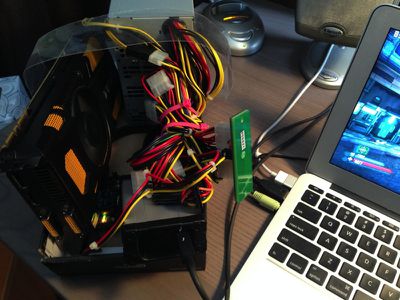 It has become very clear that gaming is not only high-performance, but super practical on an 11" Macbook Air. There's so much going against it: this hodgepodge of adapters, it has a low voltage CPU, disaster of wiring and exposed sensitive parts, crazy boot-time chainloading software, Intel killing companies producing adapters and products left right and center via legal threats, etc. but somehow, with the right parts and some patience, it works spectacularly. And is quite cheap too!
The full article goes deep into frame rates and benchmarking a variety of games, noting that -- though users need to use Boot Camp to run Windows because of graphics card driver requirements -- advanced PC gaming on the MacBook Air is workable with a little technical know-how.
Because his setup can be easily unplugged, it is especially useful for gamers who want to play games on a desktop-screen but still have a lightweight notebook for traveling. It could also conceivably be used on other Thunderbolt-equipped Macs, including the iMac and the upcoming Mac Pro.
Thanks Eli!