Apple Testing Software Update to Address 2013 MacBook Air Wi-Fi Issues
Last week, it was reported that a growing number of owners of Apple's new MacBook Air were experiencing Wi-Fi issues, with users reporting problems such as dropped connections that require a restart in order to reconnect. It was reported earlier this week that Apple has been replacing affected machines and collecting the defective units in order to examine them as part of the company's investigation into the issue.
As noted by AppleInsider, Apple is now sending out invitations to certain MacBook Air owners asking if they wish to participate in the company's AppleSeed customer software seeding program for the purposes of testing a new "MacBook Air WiFi Update 1.0". While Apple does not specify in its invitation exactly what problem the software update is designed to address, it presumably focuses on the connection issues being reported by users.
You have been selected to join our AppleSeed program. If you accept, we will provide you with a pre-release version of the MacBookAir WiFi Update 1.0 to install and use.

While trying out MacBookAir WiFi Update 1.0, we ask that you provide us with your feedback. Our program includes a bug reporting system for our participants. If you wish to be a seed volunteer and help Apple release high-quality software, follow the instructions below.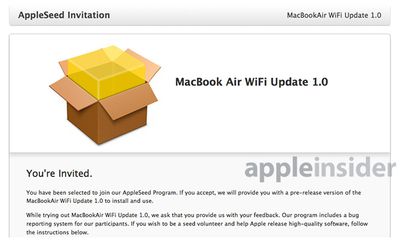 Beyond the connection issues, Apple's OS X 10.8.4 public release and OS X Mavericks beta also appear to have a software issue that prevents machines supporting the new 802.11ac Wi-Fi standard from taking advantage of the faster speeds for file transfers. It is, however, unclear whether Apple will address this issue for current MacBook Air owners through this software update in testing or through a separate update such as the upcoming OS X 10.8.5 update.