AT&T Sells Out of HTC First Inventory at $0.99, Compares Experience to Apple's Motorola ROKR Experiment
Back in April, Facebook and HTC teamed up to unveil the first "Facebook Phone," which turned out to the HTC First equipped with Facebook's "Home" software, which brought an integrated Facebook experience to the device.
Both Facebook Home and the HTC First turned out to be unpopular with Android users, with the software garnering quite a few negative reviews in the Google Play store and AT&T deciding to drop the price on the phone from $99 to $0.99 shortly after its release.
According to AT&T Mobility CEO Ralph de la Vega, though the HTC First failed to catch on, it wasn't an entirely negative experience for the company. "We sold a bunch more when we lowered the price," he told CNET in an interview on Monday. "We sold everything we had on that." Despite the fact that Vega says AT&T has sold all of its HTC First phones, they remain in stock both on the website and in stores, making the phone's official status unclear.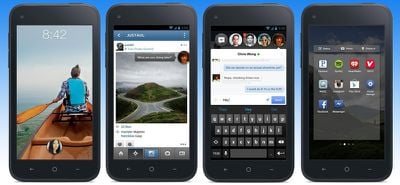 Vega declined to discuss how many units AT&T has managed to sell thus far, but he did compare AT&T's experience with the HTC First to Apple's experience with the Motorola ROKR.
Introduced in 2005, the Motorola ROKR featured iTunes integration, offering users a way to play music purchased from the iTunes Store. It came equipped with a music player similar to Apple's iPods, but like the HTC First, it experienced lackluster sales and was discontinued the next year.
Two years after the failure of the ROKR, which was Apple's first foray into the phone market, the iPhone was released. Vega is confident that Facebook may have a similar experience and told CNET that AT&T is committed to continuing to work with the company.
"We have a great relationship with Apple just like we have a great relationship with Facebook," he said. "We look forward to working with them to make Home better."