After a delay that saw the Leap Motion release pushed from May to July, the company is now working on the final preparations for its touch-free motion tracking device that allows users to control computers via hand gestures.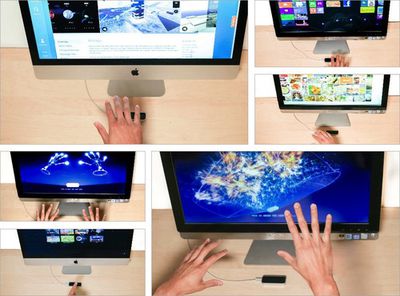 As of this week, the Leap Motion beta will be expanded, giving more than 10,000 developers access to a new developer portal (via CNET) and a new app discovery platform, known as Airspace. When Leap Motion launches, the company plans to have approximately 100 apps from different companies in its app store, though some of those will be for Windows while some will be for Mac.
Developers who are part of the beta, or those who access the developer portal, will see that the company is offering two APIs that it had not previously disclosed publicly, one that tracks users' palms, even when they turn their hands over, and another designed to track users when they grip with their hands.
The APIs available for developers include support for both Windows 8 and Mac OS X and allow access basic tools like scrolling, zooming, and pointing and clicking. There's also an advanced set of controls that provide access to more complex operations.
Last week, Leap Motion paired up with Highland Capital Partners to launch the Leap Fund, a $25 million investment that is designed to fund future development on the platform.
Leap Motion is expected to be released on July 22.