Hidden iOS 7 Settings Reveal Potential Gesture and Folder Enhancements
As the developer beta testing period for iOS 7 continues, user Hamza Sood (via 9to5Mac) has discovered hidden settings within Apple's latest iOS that include toggles for additional gesture, folder and multitasking options. It is unclear, however, how Sood came across the settings.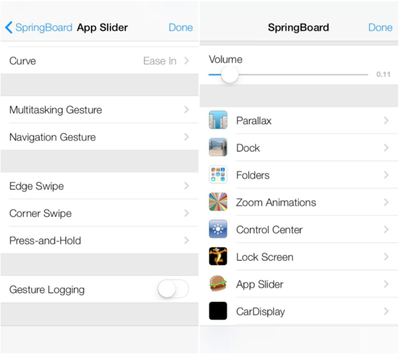 Image via Hamza Sood
The gesture settings include options for a new "corner swipe" gesture. In addition, there appear to be expanded options for the "press and hold" gesture, which has so far only been used to prompt "edit mode", which allows users to move and delete apps. There also appears to be a section for "edge swipe", which has become prominent in Apple's redesigned stock iOS 7 apps. 9to5Mac notes that the settings indicate that these gestures could be used for quick app switching.
Other settings include additional functionality on the home screen, such as being able to completely delete stock apps like Newsstand, which has long been a requested feature from some users. The ability to create folders within folders is also present.
The final group of settings is used to tweak the visual flow of the new operating system, with settings responsible for blur effects, coloring and animation speed.
As
9to5Mac
notes, it is highly unlikely that most of these features will make their way into the final public version of iOS 7. Instead, the hidden settings are likely to be used and tested by Apple internally to not only tweak iOS performance but explore future features. Some could, however, be adopted as public options to allow for further customization of the user experience.