At today's WWDC keynote, Apple introduced a new Maps app for the Mac. The app, which is similar to the iOS version, supports Flyover and points of interest. Users can add directions and locations to their bookmarks, which can then be sent directly to the iPhone as the two apps are able to sync with one another.
The new Maps also allows for better system wide mapping integration. For example, the redesigned calendar app incorporates maps, allowing directions to meetings to be inserted directly into calendar events.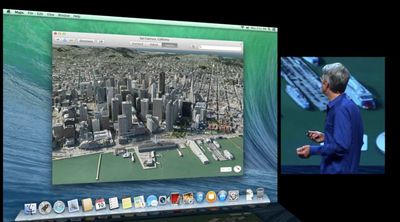 Apple is also planning to bring iBooks to the Mac with a new dedicated app. On stage, Craig Federighi demoed textbooks in the new iBooks app on the Mac, showing full screen videos and demonstrating the note taking capabilities of the app.
The app incorporates study cards that are drawn from notes taken while reading, in order to facilitate better studying habits. Both of the new apps will be available with the release of OS X Mavericks. Mavericks will be available for developers today and will be released for the general public this fall.