BlueStacks' GamePop Console Bringing iOS Games to TVs
While we've covered work by BlueStacks to bring Android apps to Macs and PCs, the company has an even more interesting announcement to make today, revealing that its upcoming GamePop set-top box designed to offer subscription mobile gaming on TVs will also include support for iOS games. 9to5Mac has more on the developments, which include word that Fieldrunners developer Subatomic Studios will be the first major partner on the service.
As for what developers will have to do before submitting their apps, John tells us it's as simple as changing in-app payments to use Google or Amazon like the rest of the content on GamePop. The rest of the magic is handled by BlueStacks' API-level virtualization technology dubbed Looking Glass. It's what will allow just about any iOS game with next to no tweaks to run on the TV through GamePop. John notes it's similar to how BlueStacks' "Layercake tech does a ton of heavy lifting to make Android apps work on PC and Mac." It will also take care of mapping controls for each app to the various controllers planned for the device including iPhone and Android apps and a physical controller that will sell with the GamePop console.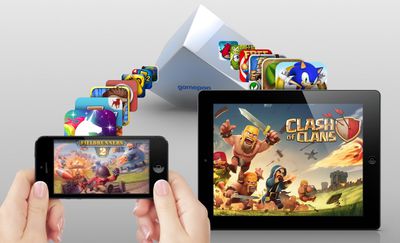 GamePop's subscription service is priced at $6.99 per month, with the company offering a free set-top box and controller to customers signing up for a one-year contract before the end of the month. After that, the box and controller will cost $129.
Apple has been rumored to be looking at opening up its Apple TV platform to third-party applications, perhaps alongside a new television set product. When Apple launched the redesigned Apple TV in late 2010, Steve Jobs noted that the company could launch an Apple TV App Store when the time is right, but the company has yet to announce any efforts in that direction.