Apple Planning 'Something Really Different' for New Mac Pro
The new Mac Pro model, expected later this year, is "something really different" according to a video professional who says he spoke with the Mac Pro product manager.
Writing on the RedUser.net forum, Andrew Baird says he spoke to Mac Pro project manager Douglas Brooks on the phone after emailing CEO Tim Cook with his concerns about the lack of a new professional tower from Apple over the past few years.
Baird told MacRumors that the call didn't include any specific details about when the new machine would be released, nor its specifications -- however, he was assured several times that the new Mac Pro would be worth the wait. Brooks told him that the machine would be released later this year.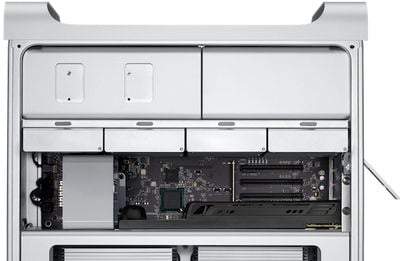 For what it's worth - a couple of months ago I received a call from Douglas Brooks, Apples project manager for the new Mac Pro to address my concerns about the new machine. Obviously he didn't tell me anything about the new MP, but asked me what I wanted to see. I told him expandability for extra graphics cards support, and memory expansion were at the top of my list amongst other things. His reply was simple:

"You are going to be really glad that you waited [to buy a new tower]. We are doing something really different here and I think you're going to be very excited when you see what we've been up to. I can't wait to show this off".

That conversation gave me enough confidence to wait for the new machine. I'm looking forward to the announcement. Hopefully the wait will be worth it.
Somewhat corroborating Baird's phone call, Lou Borella -- administrator of the 'We Want a New Macpro' Facebook group -- wrote on the page that he heard the new professional Mac would be "heavily reliant on Thunderbolt" with "no internal expandability", and would have support for dual-GPU's and no FireWire or optical drive.
In mid-2012, after a minor update to the Mac Pro was announced at WWDC, Tim Cook confirmed to a fan that new Mac Pros were coming in 2013, which was later reiterated by an Apple spokesman. It has also been rumored that the new Mac Pro would be the first Apple computer in years to be 'Made in the USA'.