'Delicious Library 3' Cataloging Software and iOS Barcode Scanner App Coming Soon
Mac software developer Delicious Monster has informed MacRumors that a major new version of its popular OS X cataloging app Delicious Library is being released very soon.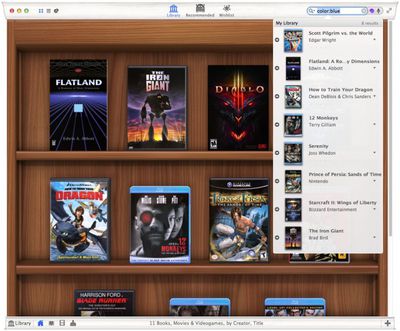 Delicious Library is a media and gadget cataloging application that hasn't been in the news in recent years, but garnered very positive reviews upon its first release. The first version and its followup both won Apple Design Awards for Best Mac OS X user experience in 2005 and Best OS X Leopard Application in 2007. The flashy design elements were notable at the time, and is likely to have inspired a "generation" of Mac App developers as well as (indirectly) Apple's own iBooks iOS app.
One of the most notable features of Delicious Library's initial release was the use of Apple iSight camera as an inexpensive barcode scanner, so users could scan and inventory their products. As a followup to that feature, the company will be releasing an iOS app that offers this behavior using the iPhone's camera, allowing quick mobile cataloging.
According to Delicious Monster CEO Wil Shipley, Delicious Library 3's major shift is from being just a "know what you own" app to a recommendation engine based on the products you own:
We're centered on the idea of your books (movies, cds, whatever) being an aspect of your unique personality, and our app does neat things with your personal data—like give you cool graphic summaries, or really good composite recommendations.


Aside from the new recommendation engine, Delicious Library 3 will offer a 3D cover-view interface, interactive charts mode, flexible smart shelves, and more. It should be available in the Mac and iOS app stores soon.