SkyDrive 3.0 Appears in App Store Following Apple-Microsoft Conflict Over Subscription Options
As noted by The Verge, Microsoft today launched version 3.0 of its SkyDrive iOS application for accessing and managing files stored in the company's cloud service.
New in version 3.0

- Updated to support iPhone 5 and iPad Mini
- Download full resolution photos to your iPhone or iPad
- Improved support for opening SkyDrive files in other iOS apps
- Improved support for uploading files to SkyDrive from other iOS apps
- Updated app icons and visuals
- Other bug fixes
Back in December, it was reported that Apple and Microsoft were at odds over SkyDrive, with Apple refusing to allow any updates to the app after Microsoft launched paid storage tiers for the service. Apple's rules require that developers offering any sort of paid content or service through their apps use the company's In App Subscription mechanism, which nets Apple 30% of revenues. Developers are also prohibited from including external sign-up links in apps to direct users to external addresses where they can purchase such plans without going through Apple.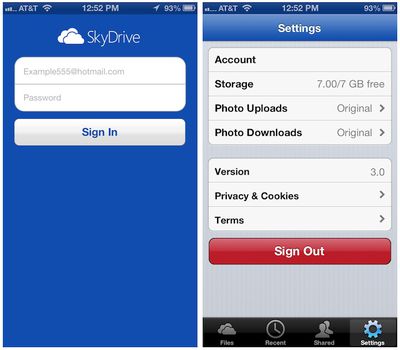 It is not entirely clear how Apple and Microsoft have settled their dispute over SkyDrive, but version 3.0 does not provide any external links to allow users to sign up for the SkyDrive service, simply presenting users with a sign-in page for existing accounts. Users who do not have accounts are required to manually navigate to Microsoft's SkyDrive website in order to sign up for an account with 7 GB of free storage and access options for additional paid storage.
Microsoft declined to comment to The Verge about the dispute with Apple, noting only that Apple approved the app earlier this week and that each app store has its own set of rules to satisfy.
Update: Microsoft has issued a revised statement to The Verge indicating that it has indeed resolved the issue by directing all paid storage upgrades through the SkyDrive website.
Microsoft says it "worked with Apple to create a solution that benefited our mutual customers." The company's new SkyDrive app for iOS "is slightly different than other SkyDrive apps in that people interested in buying additional storage will do so via the web versus in the app," says a Microsoft spokesperson. "Earlier this week, Apple approved the SkyDrive app for release and we're excited to allow people everywhere to start using it."