Just two weeks after Sapphire introduced the Radeon HD 7950 Mac Edition graphics card for the Mac Pro, EVGA today announced the launch of its GeForce GTX 680 Mac Edition. Based on the popular year-old card for PCs, the new GeForce GTX 680 Mac Edition carries 2 GB of GDDR5 memory and adds another high-end graphics option for current Mac Pro users.
The EVGA GeForce GTX 680 Mac Edition graphics card provides many new and key features:

1. NVIDIA GPU Boost Technology - Dynamically maximises clock speeds to push performance to new levels and bring out the best in every game.
2. Support for four concurrent displays; two dual-link DVI connectors, HDMI and DisplayPort 1.1
3. NVIDIA SMX Engine - Brand new processing engine which delivers twice the performance/watt compared to previous generations.
4. NVIDIA CUDA Technology - Unlocks the power of the GPU's processor cores to accelerate the most demanding tasks such as video transcoding, physics simulation, ray tracing and more.
5. OpenGL 3.2 (4.3 in Windows) Support - Support for the most widely-used open graphics standard in the world.
6. OpenCL Support - Supports the latest standards in GPGPU computing.
7. Boot Camp Support - Full support for Microsoft Windows operating system in Apple Boot Camp.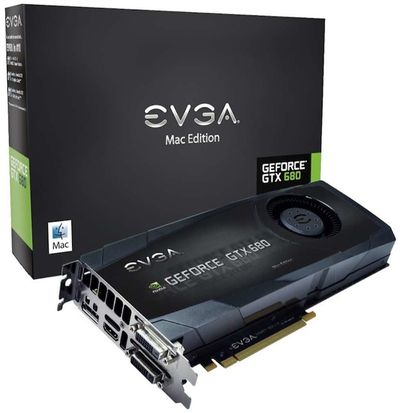 EVGA did not announce pricing or a launch date in its press release, but Newegg.com is currently listing a $599.99 price tag and a launch date of April 8. The is compatible with Early 2008 Mac Pro (MacPro3,1) and newer models with PCI Express 2.0, and requires OS X 10.8.3.