Are iTunes Links Being Downranked by Google?
Searching for direct links is a popular way to locate apps, but it appears that Apple's App Store links are being downranked by Google. As TechCrunch points out, a search for "Whatsapp iTunes" or "Whatsapp iPhone" would normally rank the target URL high on the search results page, but that doesn't seem to be the case any longer.
Searching for Whatsapp's iTunes link with those aforementioned phrases does not return an iTunes URL on the first page of results, and the same goes for many other popular apps like Facebook and Twitter for iOS. Even Apple's own Keynote and Numbers apps do not show up on the first page of results with search terms like "Keynote iTunes."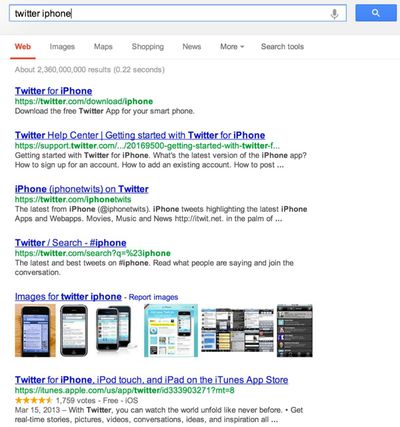 When searching for "Numbers iPhone," in fact, the iTunes link does not show up until the eighth page of search results. The results can vary slightly depending on whether one is logged in or out of Google, but for affected apps, the links remain low in the rankings.
Not all apps appear to be suffering from the search bug. For example, a search for "Temple Run: Oz iPhone" returns a top ranked iTunes link, as does a similar search for Minecraft: Pocket Edition.
Both TechCrunch and The Next Web have gone through several other examples of apps that appear to be suffering from downranked search results. There's no specific workaround for the search result mystery, but as noted by TechCrunch, adding "iTunes" to queries usually works to provide the proper links, though as seen above, that's not always the case.
For most apps, adding "iTunes" works to deliver the iTunes URL results, whether logged in or out. It's the other types of queries that are difficult, and it's difficult to pinpoint an exact time when these changes began. Because Google is constantly refining its algorithms, and many users are on Google while logged in, tweaks to search rankings are rarely spotted immediately, unless it's a case where a URL has been banned entirely, whether or purpose or by accident.
According to AppsFire co-founder Ouriel Ohayon, the search issue began recently, possibly just today. While Google has been contacted, the company has yet to issue a response on the odd search results.
Update: A Google spokesperson issued the following statement to The Verge: "We've been having some issues fetching pages from the iTunes web servers, and as a result some people may have had problems finding iTunes apps in search easily. We're working with the team there to ensure search users can find what they're looking for."