Geocentric App Developers Compare Apple's MapKit and Google Maps SDK
FastCompany has released a detailed comparison of Apple's MapKit and Google Maps SDK after interviewing the developers behind two popular geocentric apps.
Lee Armstrong (Plane Finder) and Bryce McKinley (Tube Tamer), who are experienced with both mapping platforms, criticized Apple for focusing on flashy features over base functionality, but lauded the company for MapKit's performance, low cost, and overlay features.
Both developers noted that Google had superior location finding services, satellite imagery, and 3D support, pointing out that Apple's satellite imagery was often blurry, dark, and lacking in contrast.
The other issue is the way roads are drawn in the 'Hybrid' view. The Google SDK and, in fact, the Apple Maps app draw semi-transparent roads so that the street layout is marked, but you can still see the images underneath. In MapKit, the roads are drawn opaque, which means it's often pretty difficult to see much of the imagery.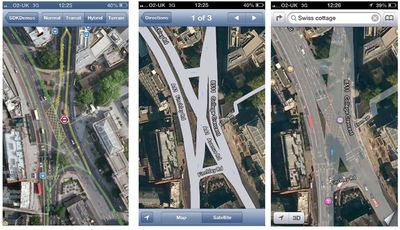 Google maps shown at left; MapKit at Center; Apple's Maps app at right.
The two did not shy away from pointing out the flaws with the Google Maps SDK, which include a limited Places API quota, slower performance, and the inability to add gradient polylines and chart overlays.
"Subjectively, the current version of the [Google] SDK does not perform as well as MapKit," McKinlay says. "GMSMapView's frame rate is capped at 30fps, which is lower than typical for iOS and results in a slight but noticeable 'jitter' effect when panning and zooming the map.

"We can't do some of our more advanced features in Plane Finder like gradient polylines, chart overlays, or smooth moving planes with animations," Armstrong says. "We have some complex tiled overlays in Plane Finder: These are aviation charts that actual pilots use. With the Google Maps SDK these tiled overlays are just not possible right now."

Tiled overlays, which are not possible with Google Maps.
McKinlay and Armstrong both agreed that that each mapping solution has both benefits and downsides. Apple has guaranteed longevity, fewer bugs, and its MapKit is easier for beginners to pick up and use, but Google's maps are more complete, have better satellite imagery, and superior search capabilities.
Because of its ease of use and the included features, McKinlay has stuck with MapKit for Tube Tamer, but plans to switch over to Google Maps SDK when it has fewer limitations. Armstrong uses a dual mapping system, integrating both Google and Apple Maps into his Plane Finder app.
Both suggest that Apple's MapKit is the superior choice for beginning developers. The full in-depth comparison of Google Maps SDK and Apple's MapKit, which can be found here, is well worth reading.