Apple Patent Applications Address User-to-User Resale and Lending of iTunes Store Content
A set of patent applications discovered by AppleInsider today suggests that Apple may be considering allowing customers to resell or lend iTunes Store content to other users in the same way they might sell a physical book, music CD or movie DVD.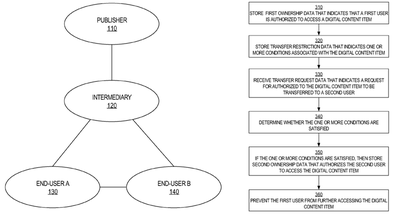 Apple's system is similar to one outlined in a separate patent already granted to Amazon, although Amazon's approach requires transactions to be made via a central marketplace while Apple's proposed approach would also allow direct user-to-user transfers.
Techniques are provided for managing access to a digital content item (such as an ebook, music, movie, software application) to be transferred from one user to another. The transferor is prevented from accessing the digital content item after the transfer occurs. The entity that sold the digital content item to the transferor enforces the access rights to the digital content item by storing data that establishes which user currently has access to the digital content item. After the change in access rights, only the transferee is allowed access to the digital content item. As part of the change in access rights, the transferee may pay to obtain access to the digital content item. A portion of the proceeds of the "resale" may be paid to the creator or publisher of the digital content item and/or the entity that originally sold the digital content item to the original owner.
Restrictions are outlined to prevent abuse of the facility, such as allowing publishers to limit transfers to certain timescales (for example, requiring the user to have owned the product for a certain length of time before selling it), frequency (limiting how often someone could sell their content), price (enforcing a minimum price) and buyer (perhaps limiting sales to within the country of origin).
The patent covers gifting and loan as well as resale, and outlines an option for the content publisher to receive a cut in return for granting rights to transfer the content.
It should of course be noted that Apple files a huge number of patent applications, only a tiny minority of which ever see the light of day in an Apple product or service, but it is interesting to see Apple at least exploring the idea.