Steve Streza of Pocket (via MacStories) participated in App.net's hackathon over the weekend, producing Project Amy, which offers a way to integrate App.net private messages with Apple's Messages app for the Mac.
Project Amy uses both App.net's private messaging API that was introduced in December and Apple's IMServicePlugin.framework to add App.net as an account in Messages. It shows up as an account type option after being installed, much like other services AIM and Google Talk.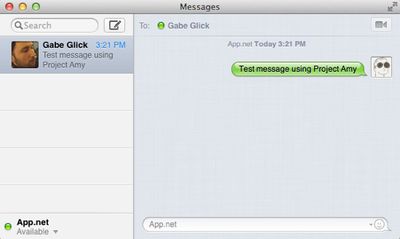 After entering a username and password, App.net contacts are displayed in the buddy list. Clicking on a contact opens a chat window, which begins an App.net private message conversation.
It deeply integrates App.net into a major app. It doesn't rely on a proxy server (or in fact communicate with any API except for App.net), so there's no concerns about privacy and far less issues with stability. It uses 100% public, documented APIs that are exposed, so updates will not break the plugin (in theory). It's super simple to set up; just run the installer and add your account information. And it is an integration in an app used by millions of people, with a wide intersection of the people who use App.net. It fixes all of the problems, makes Messages more useful, and makes App.net more useful.
Streza notes that Project Amy is a beta and that it may have bugs. The software can be downloaded directly from App.net.